Hangers are items that people often use in their daily lives. It is a good choice to make hangers with hanger forming machines and sell them everywhere. This business has the characteristics of low up-front cost and quick recovery.
Customers purchase two sets of hanger forming equipment
Customers from India went to our factory to visit the production process of the hanger machine. During the visit, we asked the customers for their opinions and introduced the various parts of the machine to the customers. It can be seen that customers are very satisfied with our machines.
At present, the two hanger forming machines have already been put into use. Customers' feedback that the use of this machine is very good. At present, the hangers used in his area are produced by these two machines. And because he can open a hanger manufacturing factory, he has also contributed to solving local employment problems.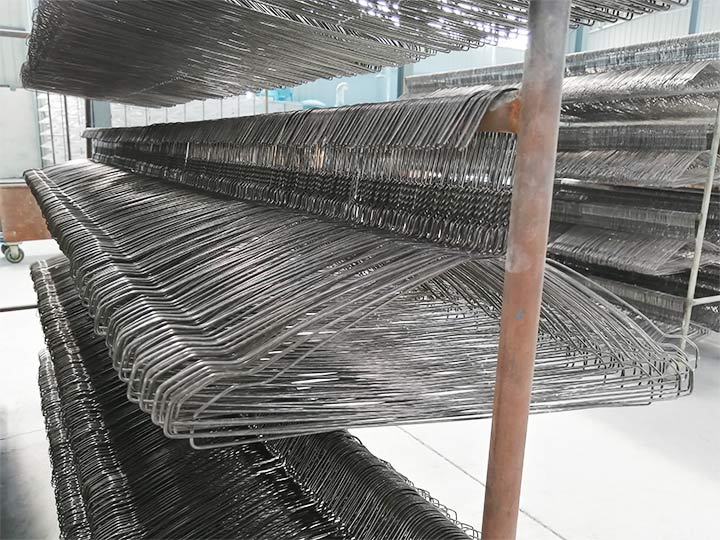 1. High production efficiency. This machine can produce 20-40 hangers in one minute, and the production efficiency is very high.
2. The quality of the machine is good. The machine is welded with high-quality steel plates, and important electrical components are all internationally known brands, which can be used for a long time.
3. It has a wide range of applications. Metal wires with a diameter between 1.4-3.8mm can be processed by this machine. Iron wire, galvanized iron wire, aluminum wire, stainless steel wire, etc. can be made into hangers.
4. The mold can be replaced. One machine can make hangers of different shapes to meet the aesthetic needs of hangers in different regions.
5. Simple operation and stable operation. Only one person can control multiple hanger forming machines at the same time. This machine runs smoothly and has low noise during operation.
Hangers are an indispensable part of people's daily life. They are needed to store clothes and hang clothes. So the prospects of the hanger making machine are very broad. Investing in hanger making machine can also get more profit accordingly.