Hanger machines are relatively rare in our lives. But hangers are something we need to touch every day, and there is also a great demand in each of us. Hangers are also made by machines. With the development of our modern technology, we also touch with a lot of machines in our lives. We all know that there are certain things that need attention when using machinery. Our fully automatic hangers It 's the same. Let 's take a look at what matters need attention.
Precautions for use of fully automatic hanger machine
Correct device placement
After the machine is placed in the workshop, the ground wire needs to be grounded. During the transportation process, the manufacturer will place a wooden floor on the bottom of the machine. After receiving the machine, the wooden board needs to be removed and rubber pads must be installed. The purpose of this is to prevent the machine from shaking during the production process.
Regularly add oil and butter
The refueling positions are mainly parts such as the straightening system, the wire feeding box, and the transmission gear. To ensure that the running-in place of the machine has long-term lubricating oil, generally check the butter once a week.
Adhere to the cleaning of the wire forming machine
Every day before work, the staff needs to wipe and clean the appearance of the machine. If it is not cleaned for a long time and oil is accumulated, there may be changes in circuit parameters and long-term corrosion of dust, which will age the appearance of the machine and affect its appearance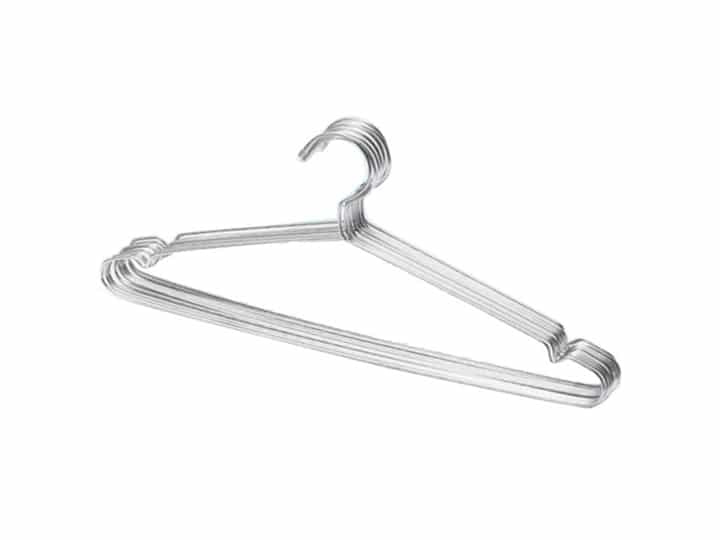 Normal operation and use
Pay special attention to Do not produce products beyond the diameter range as much as possible, so as not to reduce the accuracy of the equipment. The hanger molding machine needs to be placed in a ventilated and dry environment to avoid moisture and rust or damage the circuit.
Parameter of hanger forming machine
According to the type of hanger forming machine, it can be divided into twist hanger forming machines and welding hanger forming machine. The former uses the power of asynchronous torsion bar to firmly tighten the head and tail of the hanger. The welding-type hanger forming machine welds the ends of the hanger machine together.
| | |
| --- | --- |
| Capacity | 1620-1680 pcs/hr |
| P.V.C Coated Wire | 2.8mm~3.6mm |
| Galvanized Wire | 1.8mm~2.2mm |
| Motor | 2HP |
| Wire feeding stand | 2HP |
| Hanger size | 13-14cm children / 15-19cm Adults |
| Net weight | 750KG |
| Machine size | 1800L*800W*1650Hmm |